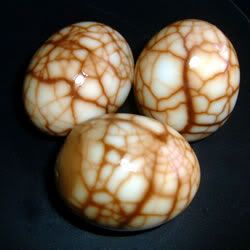 Make a baker's dozen of these spice~marbled eggs to serve as deliciously different bruncheon fare :
Ingredients : 13 organic eggs
one quarter cup loose black tea leaves
3 tablespoons soy sauce
1 teaspoon sea salt
3 teaspoons Chinese five~spice powder
To Brew : Cover eggs with water in a cooking pot, bring to a boil, and reduce heat to simmer for five minutes. Remove the eggs to a collander and bathe with cold water. Set eggs on a paper towel and gently tap each one with the back of a metal spoon to visibly crack the shell all over. Put the eggs back into the cooking pot and cover with fresh water ; add the tea leaves,soy sauce,sea salt, and spice powder. Bring to another boil, reduce heat to lowest setting, cover pot, and gently brew for thirty minutes : carefully stirring the eggs occasionally. Remove from heat and cool eggs in the infusion for one hour. Peel to eat at room temperature or store refrigerated for two days time. Serve on a nest of cellophane noodles or steamed edamame.