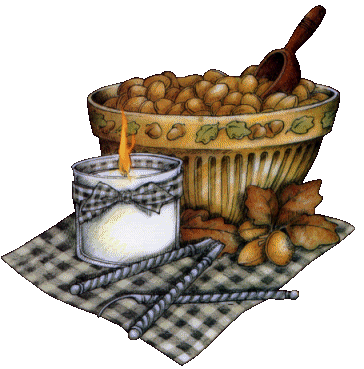 The walnut is a tree of intuition. Witches meet and dance beneath them. During the Golden Age of olde, mortals lived on acorns, while the gods sustained with walnuts. Three good, although somewhat mythical, reasons to
bake this savoury bread often during the cold weather season. It's the perfect accompaniment to hot soup or a warming beverage. Serve with tempered butter or cream cheese.
Preheat oven to 450*F.
Ingredients: 3 + ¼ cups organic, all purpose white bread flour
¾ cup dark rye flour
1 + ½ teaspoons dried yeast
2 teaspoons sea salt
1 + ½ cups tepid water
2 cups English walnut pieces
1 tablespoon rosemary (chopped)
1 cup dried cranberries
Combine the flours together; add the yeast and salt. Add a little of the room temperature water; mix the ingredients. Gradually add more water until the mixture becomes a dough.
Add the walnuts, rosemary, & cranberries to the dough: press and stretch the dough away from you, as the action of kneading warms and pulls the gluten in flour. Lift the dough edges into the middle, give it a quarter turn, & repeat; knead until pliable (five or so minutes). Place in a lightly oiled bowl, and leave to rest in a warm place until the dough doubles in size. Turn it out onto a floured surface and divide in half: knead each half into a tight dough ball. Shape each one into a ring with a hole the size of your fist. Place on a flour-dusted baking sheet and cover with a damp dishcloth until rings have again doubled in size. Lightly mist the inside of the oven with a fine water spray just before baking to help the breads cook well. Bake for 20 to 25 minutes: the bread is cooked if it sounds hollow when tapped on the bottom. Keeps for several days in a bread box and freezes well.