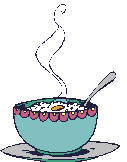 "In accordance with the kindly Badger's injunctions, the two tired animals came down to breakfast very late next morning, and found a bright fire burning in the kitchen, and two young hedgehogs sitting on a bench at the table, eating oatmeal porridge out of wooden bowls." -- Kenneth Grahame, The Wind in the Willows.
Scots know that eating a hearty, oatmeal breakfast is a healthy way to begin the day. Few foods equal oats for dietary benefit : even fewer sit so comfortably in the stomach or are as inexpensive. Oatmeal brings good fortune and encourages the power and magick of the faeries. Oats correspond to the Moon. They can also used in prosperity spells and to cast a magick circle. The following recipe is assembled the night before baking and refrigerated to blend the flavours in a sustaining brunch :
2 cups old-fashioned rolled oats
1 cup steel-cut oats
1/2 cup brown sugar,packed
1/2 cup maple,agave,or Lyle's Golden syrup
3/4 cup dried fruits(currants,apricots,dates,etc)
1/2 cup walnuts,chopped
1 large tart apple,unpeeled,cored & grated
2 teaspoons baking powder
1 teaspoon ground cinnamon
1/2 teaspoon ground nutmeg
1 teaspoon sea salt
1 teaspoon pure vanilla extract
3 cups milk
1 cup plain or vanilla yogurt
2 eggs,lightly beaten
2 tablespoon butter,melted
Butter an eight cup baking dish.Combine all ingredients in a large bowl and stir well until thoroughly mixed.Transfer to the prepared baking dish.Cover tightly,and refrigerate overnight.In the morning, let the dish sit at room temperature,while preheating the oven,for about fifteen minutes.Bake for one hour or until the center is set,when you gently press it with the back of a spoon.Serve hot with milk,cream,or yogurt.Microwave leftovers,as it keeps for several days.Recipe yields ten generous servings.